pokeraves~1: random acts of violence
download battle engine here (direct link)
The link will direct you to a forum page that contains the most up-to-date download link .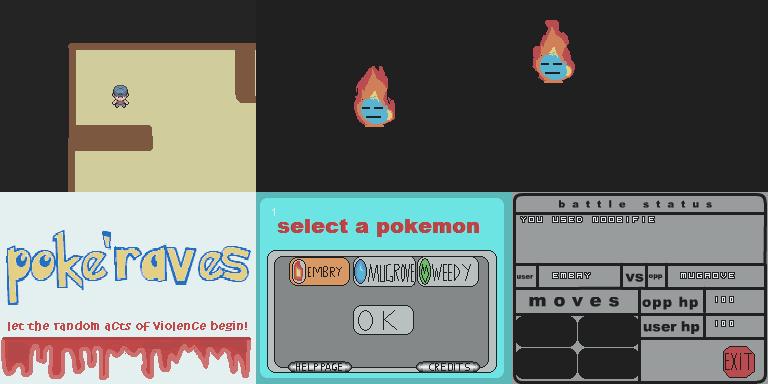 pokeraves: radom acts of violence is an rpg game very much like pokemon, and although is made almost entirely of pokemon sprites, is not a hacked version of pokemon , and has been coded 100% by hand with dsgamemaker 4.9 pro (created by James Garner).I have made, and am still making the battle engine for pokeraves, so be very much like that of the original game, however all by hand, i have not stolen any code from the original release, the source code of this game is avalible to anyone.
In pokeraves, you go on a standard pokemon journey with a twist, in which instea dof helping people, you pretty much, and to your player , unknowingly, commit random acts of violence ,destruction and pretty much ruin peoples lives, in otherwords the complete opposit of what you do in pokemon. the game engine is basically the same, as goes for controlls, however!, the battle engine i am making is going to be everything the original one lacks, like being able to select any pokemon from your party in the start of the battle, as is done in the pokemon series.
the aim of the game is quite simple, walk forwards, go on the adventure, your on a quest to collect the 8 gym badges of the country, so you can face the pokemon league. after that the game will generate a code which, once inputted into another game, will allow you to play the next game where you left off in the previous, also something that lacked in the original game, which was in the original series.
ASH NEVER DROPPED ALL HIS POKEMON, GOT AMNESIA, THEN WENT ON A TOTALLY NEW ADVENTURE WITH COMPLETELY NEW POKEMON, IN THE POKEMON TV SHOW, SO HE WONT IN MY GAME EITHER!!!!!!!!!!!!.
below and above are screenshots of the game, unfortunately all you see here (as of october 28 2010) is all the ame development so far, but if anyone wants, i will build the pokemon world first, and release a walkabout mode, wher eyou cant do anything, other than walk freely about the game.